Gah I knew they would screw this up soon enough.  Here's a set of new shows coming to the Network.  Thoughts/descriptions included.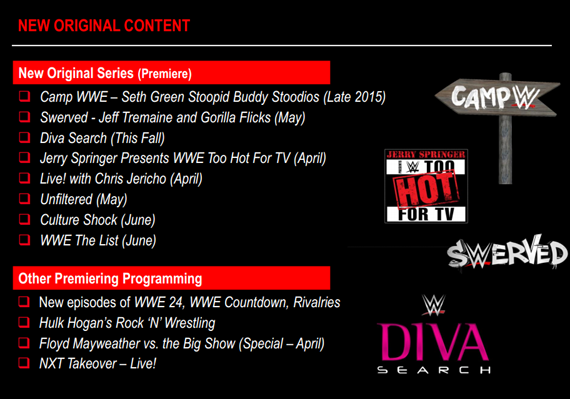 We'll start at the top.
Camp WWE – It's basically an animated series rated TV-MA.  There might be one or two laughs but I have no desire to watch this.
Swerved – WWE prank show.  I don't like these kind of shows on regular TV and I'm not going to like them here.
Diva Search – Are we really supposed to want to see the search for the next Cameron and Eva Marie?
Too Hot For WWE TV – This is a clip show of INSANE WWE moments.  Basically we're talking Are You Serious without the entertaining commentary, because bringing back Are You Serious would be too easy.
Live With Chris Jericho – Just Jericho's podcast on the Network ala the Steve Austin Show.  Whatever.
Unfiltered – Interview show with wrestlers AND pop culture people.  In case you ever wanted an interview with whoever is hosting Raw that week I guess.  The only positive here is Rene Young hosting.
Culture Shock – Corey Graves hosts a travel show.  I've heard of worse ideas I guess.
The List – From WWE's press release:  WWE The List is the best, the worst, the most bizarre and interesting of everything and anything WWE. If it's amazing, outrageous, sexy or just plain fun, it just made #TheList.  So…..it's Countdown?
New Episodes of Countdown, 24 and Rivalries – These speak for themselves and I have no issue with any of them.  24 is easily the best series they have and I never understood why they stopped airing Rivalries.  Countdown is a great way to kill an hour.
Hulk Hogan's Rock And Wrestling – If you were born in the 80s, you are now smiling.
Floyd Mayweather vs. Big Show – They already did a Wrestlemania Rewind on this so I don't know why they're doing this other than to steal some hype off the Pacquiao fight.  There's nothing wrong with that of course.  Side note: why haven't they done Royal Rumble, Summerslam or Survivor Series Rewind?  They can't be expensive to produce.
NXT Takeover Live – No no no no no no no NO!  The entire appeal of NXT Takeover is that they don't air frequently and they're given time to grow.  You had to know this was coming but my goodness this cripples my love for those things.  NXT can try all they want, but they can't fight WWE off forever.
The worst thing about this list is something I didn't mention.  In WWE's press release, most of the shows are described as short form.  In other words, most of these will be about five minutes long each.  Yeah they're easy to sit through, but that's what is supposed to make me care?  Really?